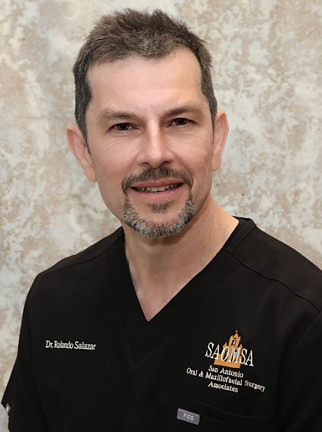 Dr. Rolando Salazar comes to the SAOMSA family with a wealth of experience and knowledge. He is a native of Monterrey, Mexico, and has been a practicing OMS for 24 years. After graduating in the top ten percent of his dental school class, he was immediately accepted into his training of medicine and surgery at the prestigious University of Puerto Rico.
The oral and maxillofacial surgery program at the University of Puerto Rico is a leader in training talented, independent surgeons who have gone on to establish private practices and led or started new OMS programs throughout Latin America. It was at the University of Puerto Rico that Dr. Salazar honed his skills in dentistry to provide comprehensive dental care in all the specialties. He studied the relationship of teeth and jaw alignment, both in normal and prosthetic function, giving him a special advantage in surgical management and restoration of complex implant cases.
His advanced training continued with anesthesia, general surgery, medicine, plastic and reconstructive surgery, and the care of the hospitalized patient, including intensive care unit (ICU) management. His time spent at the University of Puerto Rico culminated in an MSD degree.
Dr. Salazar trained directly with Dr. Julio E. Guzman, who developed treatment protocols for congenital anomalies and established a clinic for congenital anomalies to treat cleft lip and palate, severe orthognathic reconstructions, and other conditions. Dr. Salazar worked with the US Army training program in Fort Gordon, Georgia to gain further experience in severe maxillofacial reconstruction and care of the trauma patient.
Dr. Salazar maintains membership in the American Association of Oral and Maxillofacial Surgeons, and the Texas Society of Oral and Maxillofacial Surgeons, as well as the Southwest Society of Oral and Maxillofacial Surgeons.
Dr. Salazar is an international lecturer sought for his expertise in advanced pathology of the head and neck as well as reconstruction, including dental and facial implants. He has participated in authoring many peer-reviewed journal articles and textbooks.
Dr. Salazar maintained a private practice in Laredo for a decade and a half, and was on staff at Doctors Hospital of Laredo and Saint Joseph Medical Center. He has been married for more than 25 years and has two sons who are inspirations to many. He and his wife are competitive tennis players as well as enjoy spending time golfing and jogging.
Dr. Mazock and Dr. Salazar are currently working on publications about uncommon pathology as well as innovative techniques for maintaining teeth with specialized grafting techniques, application of novel growth factors and cytokines, and expanding into radio frequency ablation and laser treatment of lesions.