Many people think that dental implants are a new tooth replacement technique, but physicians and dentists have been attempting to restore missing teeth with implants for thousands of years. At San Antonio Oral & Maxillofacial Surgery Associates, we use dental implants to provide support for any number of replacement teeth, from a single crown to a full denture.
The reason dental implant tooth replacement is so effective is that implants restore both the root and biting surface (crowns) of teeth. Dental implants mimic the function of tooth roots, offering support for a smile that looks as natural as it feels. They also support the retention of bone density and gum tissue volume, thereby allowing patients to better maintain oral and overall health.
Without tooth roots, bone and gum tissues diminish quickly, and patients who choose a tooth replacement option that only restores the visible portions of their smile often suffer adverse effects due to the missing root structure.
Patients who have suffered diminished bone density may want to receive dental implants, but find they're no longer able to support the implant due to lack of jawbone structure. At SAOMSA we offer bone grafting and COAR implant dentures for people unable to receive the more traditional implant-supported tooth replacements.
Traditional Dental Implants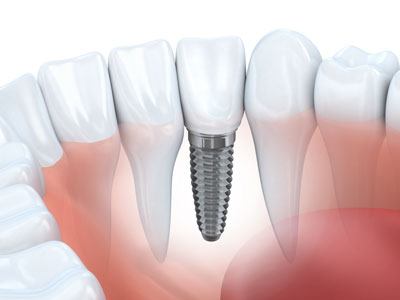 Traditional dental implant-supported tooth replacements restore both the roots and biting surfaces of teeth which has made them the preferred dental restoration method for most patients. The procedure has two stages.
During the first stage, titanium implant posts are surgically positioned in the jawbone. Our skilled team accurately plans the placement and positioning of each implant to provide optimal support for the prosthetics.
The number of implants necessary is dependent upon the number of teeth to be replaced, and their location, but as long as the patient is relatively healthy and has the necessary bone structure, dental implants can be successfully placed. However, for patients with diminished bone density following tooth loss, an alternative option may be necessary.
For some, we recommend bone grafting to improve the underlying structure before placement of dental implants, but for fully edentulous (without teeth) patients, there may be an even simpler solution – COAR implant-supported dentures.
COAR Implant-Supported Dentures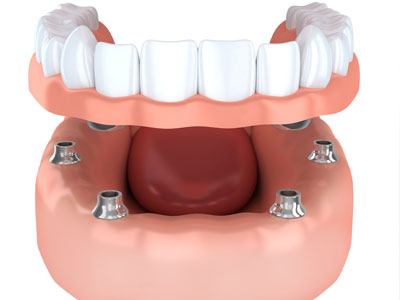 COAR is an acronym for Complete Oral Arch Rehabilitation. For patients who are edentulous — meaning all the teeth are missing along one or both arches — COAR may be the ideal solution for tooth replacement. Unfortunately, bone loss is a common occurrence among those who are edentulous. This can negate the possibility of having traditional dental implants.
However, COAR implant dentures rely on only four to six implants that are strategically positioned toward the front of the mouth, where the jawbone naturally has greater density. Thus, the implants can provide enough support to secure a full implant-retained denture.
Whether you need traditional dental implants to replace one or a few missing teeth, or COAR implant dentures to replicate an entire arch of teeth, the team at SAOMSA can help you enjoy the health and aesthetic benefits of a complete smile.
Dental Implant Salvage
In eligible candidates, dental implants have a success rate of over 95%. However, the condition known as peri-implantitis, which causes the tissues surrounding the implants to become inflamed, can result in the failure of initially successful dental implants.
Fortunately, "sick" dental implants can be saved by your implant dentist at San Antonio Oral and Maxillofacial Surgery Associates. Using advanced techniques and our state-of-the-art implant technology, we regularly rescue ailing dental implants in San Antonio with treatments like debridement and regeneration. Learn more about dental implant salvage.
Dental Implants FAQ's
Are you thinking about dental implants to restore your smile? Do you have questions? We're happy to answer your questions! Follow this link to see answers to some frequently asked questions and learn more about dental implants.