Changing faces, changing lives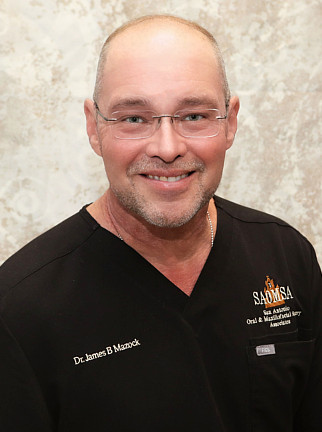 Dr. James Mazock is a native of San Antonio and the current owner of SAOMSA. After completing his undergraduate degree in clinical laboratory sciences from the University of Texas, he earned his MT from the American Society of Clinical Pathologists.
He entered graduate school to study neuropharmacology, where he was introduced to a lifelong love of science. He graduated cum laude from the University of Texas Health Science Center at San Antonio Dental School in 1998 after receiving numerous academic awards. In addition, it was at the UTHSC-SA where he continued his studies in bone and mineral research, which culminated in several publications and recognition by the International Association of Dental Research-Hatton Award Committee. Dr. Mazock is a past president of the UTHSC alumni board.
Dr. Mazock joined the United States Navy and completed advanced training in general dentistry while serving with the 2nd Marine Expeditionary Forces at Camp Lejuene, North Carolina. Shortly after, Dr. Mazock began his oral and maxillofacial surgery training at Baylor University Medical Center and Baylor College of Dentistry in Dallas. He continued to stay involved with research and coauthored many surgical articles on bone grafting and trauma.
Dr. Mazock returned to active duty in the US Navy and was stationed at Naval Hospital Rota, Spain, and Naval Hospital Naples, Italy, where he served as a flight surgeon for the NASA space shuttle recovery program (STS-114) and was honorably discharged after ten years of dedicated service.
During this time, he successfully challenged the American Board of Oral & Maxillofacial Surgery and is now a Diplomate of the ABOMS. He is a fellow of AAOMS and a member of the Academy of Osseointegration as well as many other societies. He is also the medical director of facial surgery for the Christus Santa Rosa healthcare system.
Dr. Mazock's experience with military medicine and European medicine has given him a unique perspective on what is available and can be accomplished. Together with a collaborative team of scientists in Switzerland, SAOMSA was the first practice in North America to place the two-piece ceramic implant.
Dr. Mazock has been involved since the inception of full-arch rehabilitation, forming the trademarked name of COAR, Complete Oral Arch Rehabilitation. He provides advancements in full-arch reconstruction implant and tooth salvage, which is not a major part of most traditional oral surgery practices.
Dr. Mazock has lectured nationally and internationally on various oral and maxillofacial surgery topics and has a passion for continued education in pathology and reconstruction. He utilizes the latest in reconstructive technology to allow the best opportunity to achieve exciting results that have never been attainable before.
In the Community
Dr. Mazock is involved with several community organizations, including service as an ambassador for the San Antonio Stock Show & Rodeo as a member of its medical committee, membership in the Sons of the Republic of Texas, director for the San Antonio District Dental Society, service on the UTHSCSA Dental School Alumni Board, and membership in the South Texas Oral Health Network.
In his free time, Dr. Mazock volunteers with the San Antonio Area Give Kids a Smile program, the Haven for Hope's San Antonio Christian Dental Clinic, and the San Antonio Conservation Society's annual NIOSA Fiesta. Dr. Mazock also headed the OMS division of the ADA Mission of Mercy, which rendered care to more than 5,000 patients in need. This was the largest Mission of Mercy to date.
At Home
Dr. Mazock loves his time with his wife and love of his life, Angela, also a native San Antonian. She has a master's degree in healthcare administration, which brings tremendous efficiency and professionalism to SAOMSA.
Dr. Mazock and Angela have two very successful daughters. Taylor, attending UT Austin and Addison who is finishing high school, are both outstanding students and leaders in the community.
When he's not working, you can find Dr. Mazock on the back of a tractor: tilling a field or cutting hay for his cattle. A dedicated conservationist, he also enjoys fishing, hunting, and supporting organizations that keep the natural areas pristine. The Mazocks love to dive the reefs of the Caribbean Sea and explore new worlds. Dr. Mazock has even gotten new ideas about OMS at 75 feet under water!