Changing faces, changing lives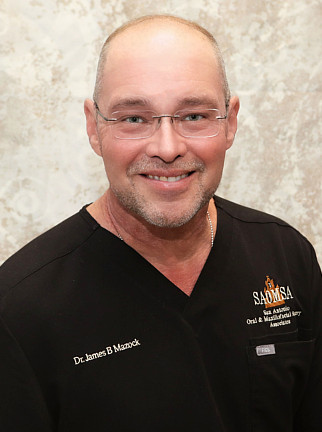 Dr. James Mazock is a native of San Antonio and a current owner of SAOMSA. After completing his undergraduate degree in clinical laboratory sciences from the University of Texas, he earned his MT from the American Society of Clinical Pathologists.
He entered graduate school to study neuropharmacology, where he was introduced to a lifelong love of science. He graduated cum laude from the University of Texas Health Science Center at San Antonio Dental School in 1998 after receiving numerous academic awards. In addition, it was at the UTHSC-SA where he continued his studies in bone and mineral research, which culminated in several publications and recognition by the International Association of Dental Research-Hatton Award Committee. Dr. Mazock is a past president of the UTHSC alumni board. He served two terms as Director for the San Antonio District Dental Society. He is an anesthesia evaluator for the Texas Society of Oral & Maxillofacial Surgeons.
Dr. Mazock joined the United States Navy and completed advanced training in general dentistry while serving with the 2nd Marine Expeditionary Forces at Camp Lejuene, North Carolina. Shortly after, Dr. Mazock began his oral and maxillofacial surgery training at Texas A&M, Baylor University Medical Center-Dallas. He continued to stay involved with research and coauthored many surgical articles on bone grafting and trauma.
Dr. Mazock returned to active duty in the US Navy and was stationed overseas for nearly four years. He was fortunate to serve as a flight surgeon for the NASA space shuttle recovery program (STS-114) and was honorably discharged after ten years of dedicated service.
During this time, he successfully challenged the American Board of Oral & Maxillofacial Surgery and is now a Board Certified OMS. He is a fellow of AAOMS, ACOMS, and a member of the Academy of Osseointegration as well as many other societies. He is also the medical director of facial surgery for the Christus Santa Rosa healthcare system and has recently been chosen as a Fellow in the Academy of Dentistry International (FADI).
Dr. Mazock has lectured nationally and internationally on various oral and maxillofacial surgery topics and has a passion for continued education in pathology and reconstruction. He utilizes the latest in reconstructive technology to allow the best opportunity to achieve exciting results that have never been attainable before. He and his team were the first in North America to place the two piece PuRe ceramic implant.
At Home
Dr. Mazock loves his time with his wife and love of his life, Angela, also a native San Antonian. She has a master's degree in healthcare administration, which brings tremendous efficiency and professionalism to SAOMSA.
Dr. Mazock and Angela have two very successful daughters. Taylor, a graduate of UT Austin now working as a Regional Press Assistant in Washington DC and Addison who is The Proudest member of the Fightin' Texas Aggie Class of 2025, WHOOP!! Both girls still provide many exciting times for Mom and Dad and they are a Life's Blessing.
When he's not working, you can find Dr. Mazock managing his Ranch. A dedicated conservationist, he also enjoys fishing, hunting, and supporting organizations that keep the natural areas pristine. He is an avid archer and amateur archeologist, digging ancient Indian artifacts. The Mazocks love to dive the reefs of the Caribbean Sea and explore new worlds. Dr. Mazock has even gotten new ideas about OMS at 75 feet underwater!